Grid view
A grid view is a betting interface similar to the one available at the Betfair site, but it gives you more information and it's faster to operate. It's particularly indicated for markets with many selections, like horse races and soccer correct score markets, for example.
On the top bar there is information about the event and buttons to:
• Change market: this drop down allows you to change markets within this grid view;
• Change view: click these buttons to change to other betting interfaces, alternating between grid, ladder, multibet, advanced chart and all markets;
• Open match view/live video/stats: click it to open a popup with more information about the market;
• Show details: opens a bar at the bottom showing additional live information about the sporting event.
There are 3 areas in the grid view. The grid itself is always visible in the centre and there is a collapsible menu on each side: the left bets menu has information about your matched and unmatched bets and the right options menu has staking options, scheduled bets, and Betfair charts and market rules (both are explained in detail below).
Finally, there is a status bar at the bottom with information about Betfair connection time and a button to quickly save a screenshot of this window, which is useful to save and share interesting moments of the market.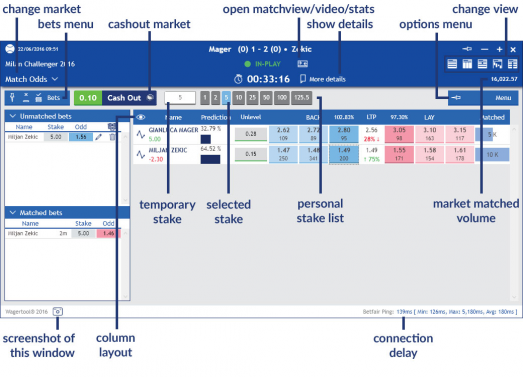 The intuitive grid betting interface has got a customizable layout made up of drag & drop columns. Moreover, by clicking the eye icon you can make each column visible or invisible or reset default values by clicking the Reset Columns option.
To reorder the selections list of the Grid view, just click on the header of the column you wish sort ascending/descending.
There are 6 types of columns:
• Prediction: probability of a selection to win (1/Lay odd);
• Unlevel*: place a bet focusing the risk on that selection and no win/loss in other selections;
• Back Odds: up to 3 columns, with inner, middle and outer odds;
• Last Traded Price: presents the odd of the last traded bet, with the WOM indicator bellow**;
• Lay Odds: up to 3 columns, with inner, middle and outer odds;
• Matched bets: total amount of matched bets in each selection.
Overround: On top of the Back and Lay inner price columns you can see the overround of the Back and Lay side.
On the left of each market selection name there is an icon that you can use to access the corresponding Betfair chart.
To place a bet, click a blue (Back) or pink (Lay) square, usually known as market take. If the right mouse click option is active in the settings options, you can place the opposite bet with a right click, known as market make, so this feature lets you bet in this grid view as you would in a ladder view.
* Unlevel is a cash out option that closes the market position, concentrating profit or loss on a single selection.
** Weight of Money is presented in red when it indicates an odd drop tendency and in green when it favours a rise.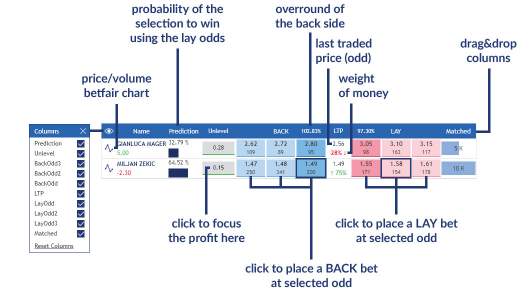 This menu presents a list of your matched and unmatched bets in all selections of this market.
In the unmatched bets area there is a list of all your unmatched bets, which you can edit or cancel. You can also cancel all unmatched bets by clicking the cancel all button.
In the matched bets area you have a list of all your matched bets and an indication of the elapsed time.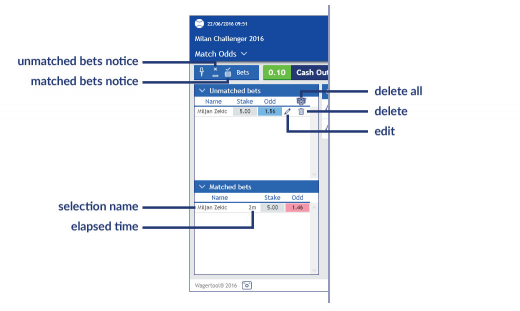 On the options menu you can set the stake type you'd like to use, which is identifiable in your personal staking list by colors: Stake (blue), Liability (pink), Profit (green) and Mix (purple).
You also have an option to cancel (Lapse) or keep (Keep) unmatched bets when the market is suspended in the bet persistence type option, but it only applies to the bets you place from that point on.
Bellow the auto close tools there are options to enable:
• Bet confirmation box;
• Include Betfair commission in the profit information;
• Betting with right mouse click in the grid.
If you expand the Chart tab, you'll see the Betfair price/volume chart of a market selection here by moving the mouse over the desired selection, instead of clicking the chart icon to open a popup window.
Expand the information tab to read more about the Betfair market rules.
Note: The following is explained in detail in this user guide: Stake type or Staking mode in Stake type (16) and Tick offset, Stop Loss, Fill or Kill and Auto Trade in Betting Automation (18).