Using Alerts
An alert is a scout robot that monitors the odds of live markets and alerts you as soon an event matches all the criteria defined in the alert.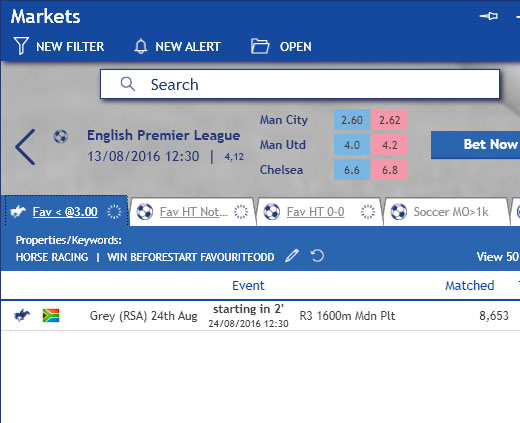 Alerts are useful to warn you about events favorable to apply your strategy. You just have to focus on creating the betting/trading strategies and Wagertool searches the markets for you.
You can create simple alerts: for soccer matches, alert me when the draw odd drops below 2.00.
Or more complex alerts like: for soccer matches with a favorite (starting odd less than 1.50), alert me when the match reaches half time with a 0-0 score.
They are defined by one or several conditions. Take a look at the 4 default alerts built in Wagertool and learn from them to test your alert ideas.
The alert tab has to be open for the alert to work, but it does not need to be the active, because the alert runs in the background.